Posted on May 31, 2016 by Minerals Make Life
With summer's arrival, most of us are looking forward to longer hours of sunlight and more time spent traveling and exploring the great outdoors. As we go about our daily lives, we may not think about the raw materials that support our quality of life. This summer, we're asking all of our supporters to keep in mind all of the ways that minerals make summer fun.
Minerals make summer travel safe, fast and efficient. Planes, trains and cars are made from metals like iron, kyanite and copper. Certain minerals like zinc are important to catalytic converters, hybrid car batteries and lighter vehicle frames, all of which improve fuel efficiency. GPS technology that helps direct us to our destination requires gold, molybdenum, silver and uranium. Even the roads and bridges we rely on require minerals.
If your summer will include lots of time spent outside, you might be surprised to learn that you're enjoying a former mine site. Through the efforts of the U.S. minerals mining industry, millions of acres of land have been reclaimed and restored to provide parks, golf courses, hiking trails, fishing holes, nature reserves and wildlife habitats.
If you plan to take in the sun, be thankful for zinc, a key ingredient in sunscreen that blocks UV-rays and also serves as a natural insect repellant.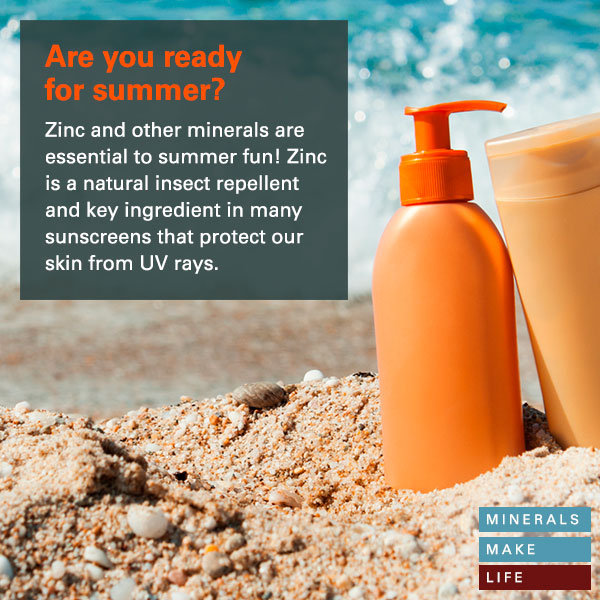 Minerals are integral to almost everything we use and depend on daily. To learn more about minerals and their essential applications, watch our video here. Be sure to spread the word and share these fun facts with your friends on Facebook and Twitter.
No matter where your plans and travels take you, Minerals Makes Life wishes you a safe and happy summer!
Tags: Good Neighbor,Growth